As part of the WAEH we will visit two other eye hospitals:
Please follow the following travel schedule
- Sunday: travel to Exeter by plane or train via London
- Monday visit: 09.30 - 15.00
- Monday afternoon / evening - fly to Dublin after 17.00 pm
- Tuesday visit - 09.30 - 15.00
- Tuesday/Wednesday: fly back home via Dublin after 17.00pm
Suggested hotel in Exeter:
Mercure Exeter Southgate Hotel
Southernhay East, Exeter, EX1 1QF, UK

Suggested hotel in Dublin:
Clayton Hotel Cardiff Lane
Cardiff Lane, Sir John Rogerson's Quay, Dublin 2, D2 Dublin, Ireland

Would you like to join this visit? E-mail Maaike:
Please see below for more information about the two visits.
Monday June 10 – West of England Eye Unit (Exeter, UK) – associate member of the WAEH


The West of England Eye Unit known as WEEU is situated within the Wonford hospital at the Royal Devon and Exeter. The Unit provides ophthalmic services to Exeter, Mid Devon and East Devon, primarily covering a population of 400,000. The Department moved to the main Royal Devon & Exeter Hospital site in 1993, having previously been housed in the West of England Eye Infirmary, the second established Eye Infirmary in England after Moorfields Eye Hospital. The Unit is self-contained with an out-patients department, day case/cataract unit, 2 dedicated eye theatres, and other ophthalmic diagnostic and treatment facilities. The Eye Unit is well integrated into the rest of the Hospital with ready access to radiology, the paediatric department and accident and emergency facilities. In addition there is a dedicated Glaucoma Unit located at Heavitree Hospital in Exeter and satellite services at Axminster and Sidmouth Hospitals where day case cataract surgery and other ophthalmic procedures are performed. Peripheral clinics are also run in the outlying areas. The unit sees around 70,000 outpatients per year, delivering approximately 4,850 injections. Around 6,400 daycase / inpatient surgeries are delivered per year.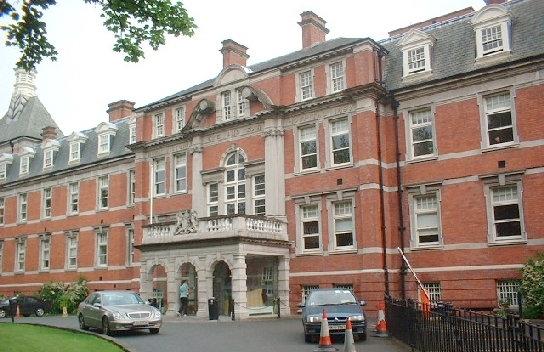 The Royal Victoria Eye and Ear Hospital (also known as The Eye and Ear, RVEE, or RVEEH) is a public teaching hospital in Dublin, Ireland. The Royal Victoria Eye and Ear Hospital in Dublin was founded in 1897 and is the National Referral Centre for both Eye and Ear, Nose & Throat disorders. It is a Public Voluntary Hospital, known affectionately by generations of Dubliners as the Eye and Ear. The hospital treats over 6,000 inpatients a year in its 90 beds, and over 80,000 outpatients, including attendances at Accident & Emergency. It houses the National Ophthalmic Pathology Laboratory and Registry of Ireland. It is funded by the Irish Government's Health Service Executive and provides specialist care in ophthalmology and ear, nose and throat disease.