2023-12-04 09:29:36
---
Call for Projects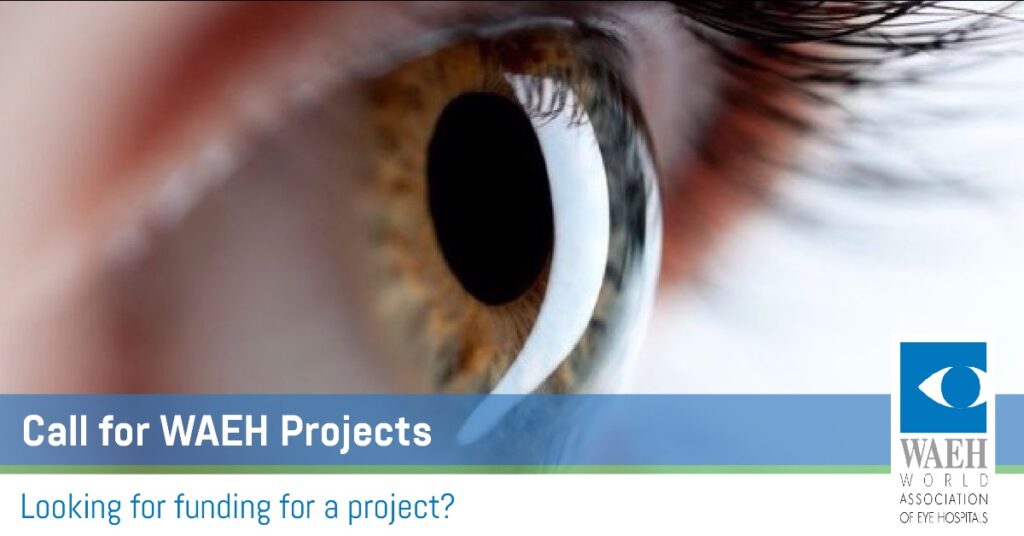 Interested in funding for a project? The WAEH can finance two to three projects per year with 7.500,- euro. You can use the following WAEH project format to send in your project proposal: WAEH project proposal.

Round 1 – Deadline 31 January 2023
– Incoming proposals reviewed by board in February / March board meeting
– All proposals need to be sent in using the standard WAEH project format
Round 2 – Deadline 31 July 2023
– Incoming proposals reviewed by board in August / September board meeting
– All proposals need to be sent in using the standard WAEH project format

Send your project proposal to Maaike van Zuilen: Maaike.vanzuilen@waeh.org
---
WAEH – Annual Meeting survey
The next WAEH Annual Meeting will be held in Melbourne (10-12 October 2023) and Sydney, Australia. We are looking for themes and ideas, so would like to ask for your input! Your input is important and will help us to build future events that are tailored to your interests and requirements.
Share your ideas via the following short survey!
---
Lusaka Eye Hospital is looking for equipment
Sponsored member of the WAEH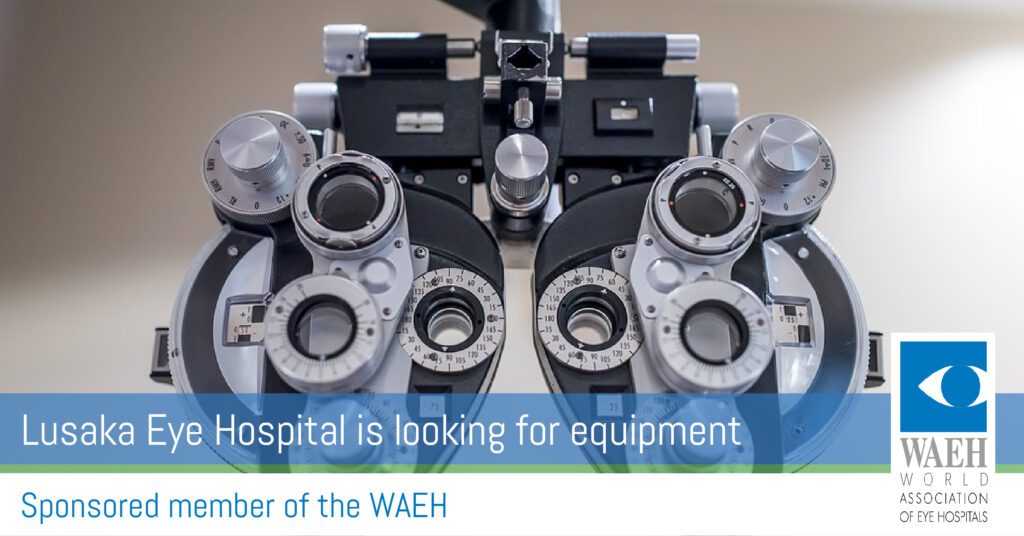 Our sponsored member the Lusaka Eye Hospital from Zambia is looking for possible partners to assist in acquiring equipment. This will propel their vision of 'Provide Quality and Accessible Eye Care'.

Lusaka Eye Hospital is a 40-bed eye specialist institution in the capital city of Lusaka, Zambia. It is one of the medical institutions run by the Seventh-day Adventist Church in Zambia. 

Interested? More information about the Lusaka Eye Hospital and the equipment you can find here: https://bit.ly/3Y4zEiy
---
Communities of Practice Human Resources in Ophthalmology started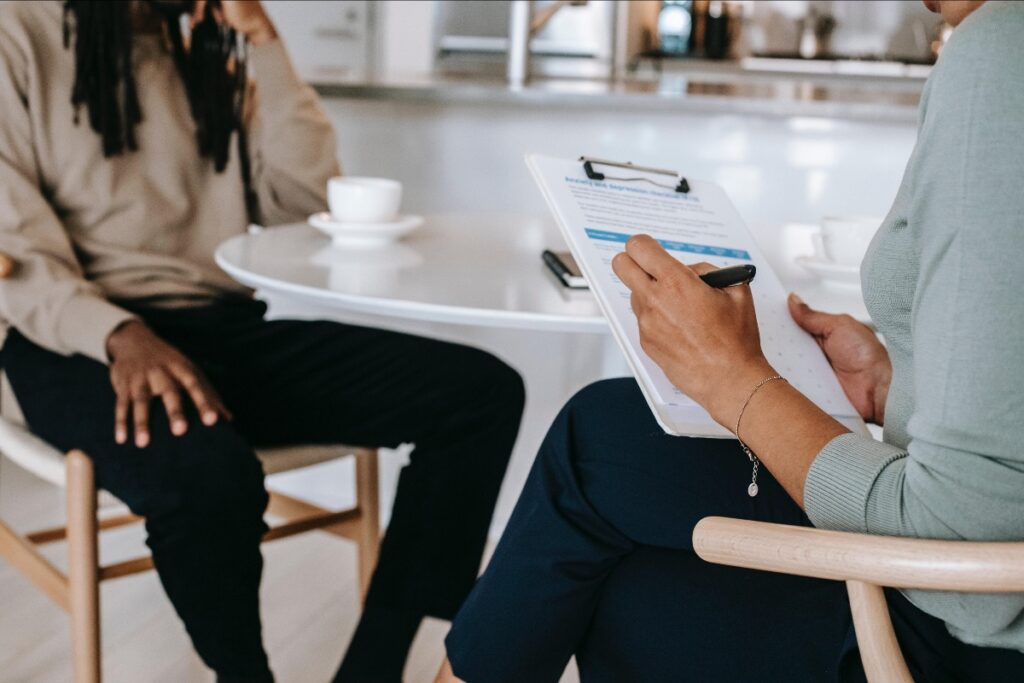 The Human resources communities of practice has been launched last week! Once every three months, this group meets to discuss topics such as Handholding – From Volunteer to Career, Employment model(s) in ophthalmology, Task differentiation and Burn out prevention. The group will share best practices and learn from each other. We will meet via Zoom every three months. 
Thursday January 26 – 13.00 CET
Thursday April 20 – 13.00 CEST
Thursday July 13 – 13.00 CEST
October Annual Meeting
Thursday December 7 – 13.00 CET
Want to join? Send an email to Maaike: Maaike.vanzuilen@waeh.org
---
Communities of Practice for Nurses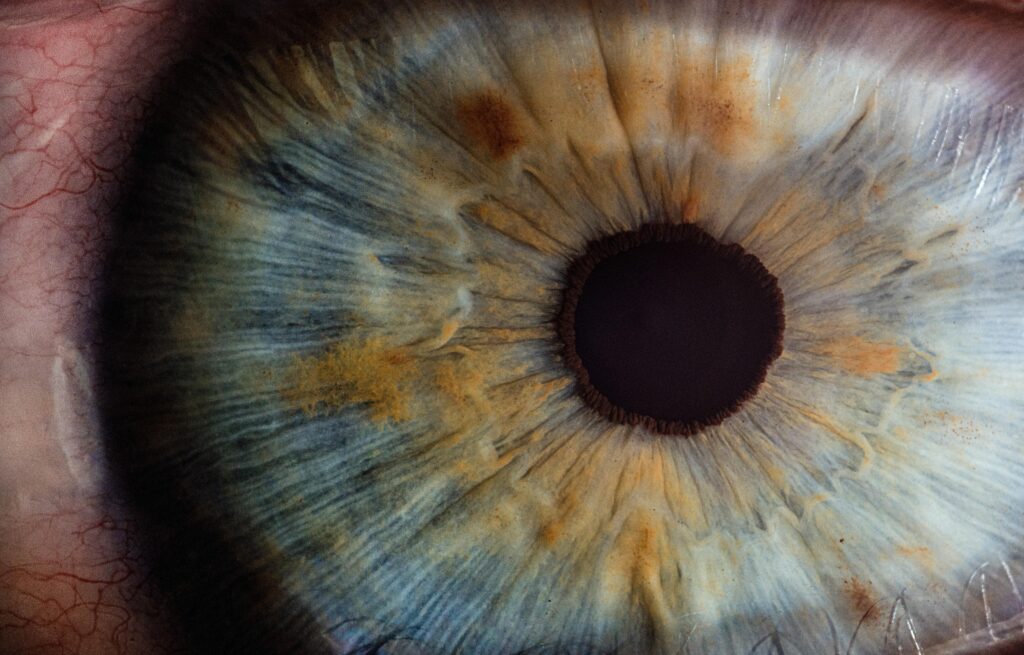 Want to know more about education for nurses? For all nurses working in eye hospitals worldwide! Please join our Community of Practice for Nurses on:
Thursday February 9 – 01.00 PM CET
Saturday May 20 – 02.00 PM CEST
Thursday December 14 – 01.00 PM CET
Register via Maaike: maaike.vanzuilen@waeh.org
---
Ophthalmic Aid to Eastern Europe (OAEE)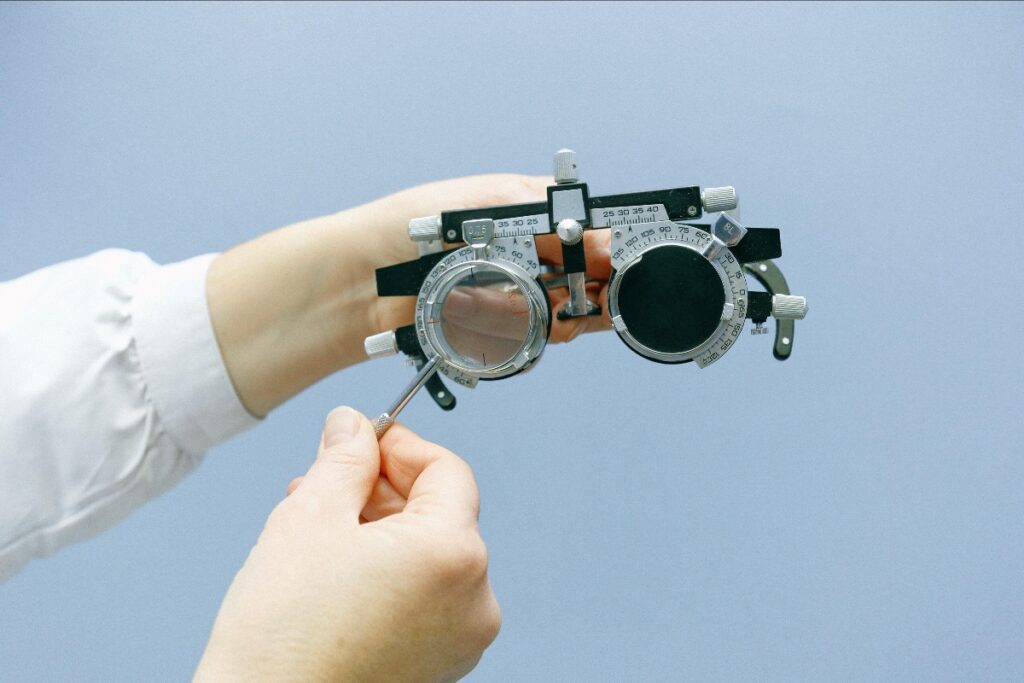 As a consequence of the war in Ukraine, the need for ophthalmic medical supplies in Eastern Europe has never been greater. The charity OAEE aims to deliver donations to the Ophthalmology Department of Lviv Hospital and also to St. Spiridon Hospital in Iasi, Romania where displaced Ukrainian refugees are arriving. They are seeking donations of new or 'used but usable' ophthalmic equipment and any short-coded consumables. Surgical instruments, slit lamps, direct and indirect ophthalmoscopes and operating microscopes are particularly needed. If you have anything that may be of use please contact Mr Peter Cackett by email at pdcackett@hotmail.com. Thank you for any support that you can provide.
 
Want more information: check the information about the charity Ophthalmic Aid To Eastern Europe here.
---
Webinar 15 December 2022 Steve Rum – Philanthropy
Webinar 15 December 2022 Steve Rum – Philanthropy
View the webinar Slides or check out the recording of the webinar here! You will need acces to the WAEH Knowledge hub. Interested? Contact Maaike van Zuilen.
---
15-20 National Eye Hospital
New full member of the WAEH!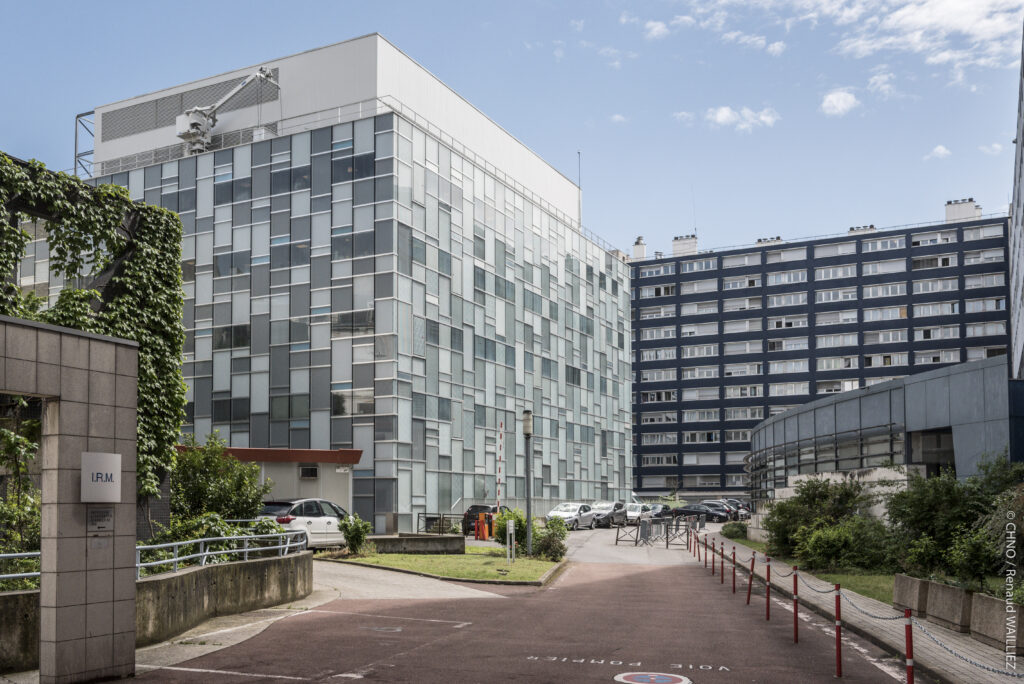 The 15-20 National Eye Hospital, located in the heart of Paris (Bastille), is one of the oldest French hospitals: it was founded more than 700 years ago by king Saint-Louis to care for 300 (=15×20) blind people. It's currently the public national leader of eye health services, with 60 000 ER consultations per year, 364 054 consultations and procedures, more than 21 000 surgeries (10 600 cataracts, 4 000 retinas, 2 200 glaucoma surgeries, 1 100 corneas, 1 000 eye lid and orbital surgeries… ) and 92% of outpatient care. Recently chosen as lead hospital for eye health services at the 2024 Summer Olympics, the 15-20 hospital also welcomes on its premises the Vision Institute, launched in 2004, and the University Hospital Institute (IHU) FOReSIGHT, launched in 2018, widely referred as European leaders in the field of ocular research and innovation.
With an operational budget of 90M€ and around 1000 staff, including 250 medical staff, the 15-20 hospital has recently finalized its new institutional plan for 2022-2026 with 7 strategic lines of development and transformation, including a massive reconstruction project and the development of foreign and innovative partnerships. Nicolas Peju, CEO, Nils Avanturier, deputy CEO, and Pr Christophe Baudoin, president of the medical commission, are delighted to join the WAEH network and would be more than happy to exchange with the WAEH members about the "eye hospitals" of tomorrow, to create exchange or joint education /research programmes, and to welcome any of the WAEH members for a visit in Paris.

Want to know more about this eyehospital? Go to: https://www.15-20.fr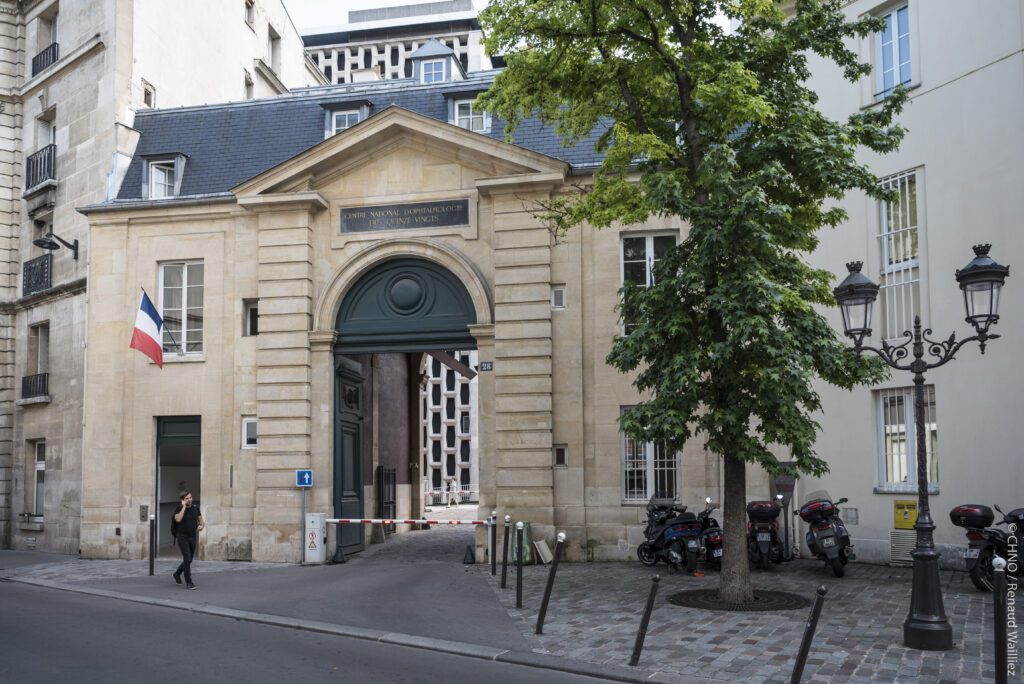 ---
OPTY Eye Hospital Chain
New full member of the WAEH!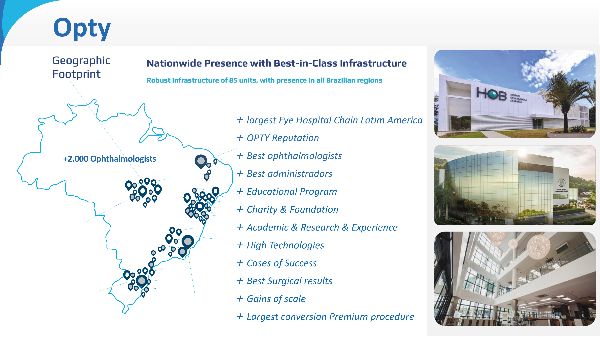 Letter by Takashi Hida
I am well into my second month as member of WAEH and am already feeling I have been here much longer, which is great! From my short time at WAEH 16th Annual meeting, I have been impressed by the friendliness of everyone. Thank you to all who have made me feel most welcome! 
 
I am also impressed with the focus on sharing ideas and improve efficiency in eye care. The hard work and commitment of WAEH members is evident and certainly focussed on delivering the best and most safe ophthalmic care.
 
The Opty Eye Hospital Chain is responsible for the first venture capital in ophthalmology and that started by merge and acquisition of Eye Hospitals throughout Brazil. We have expanded to 85 Eye Hospitals with more than 2.000 ophthalmologists. Today is the largest Eye Hospital Chain in Latin America.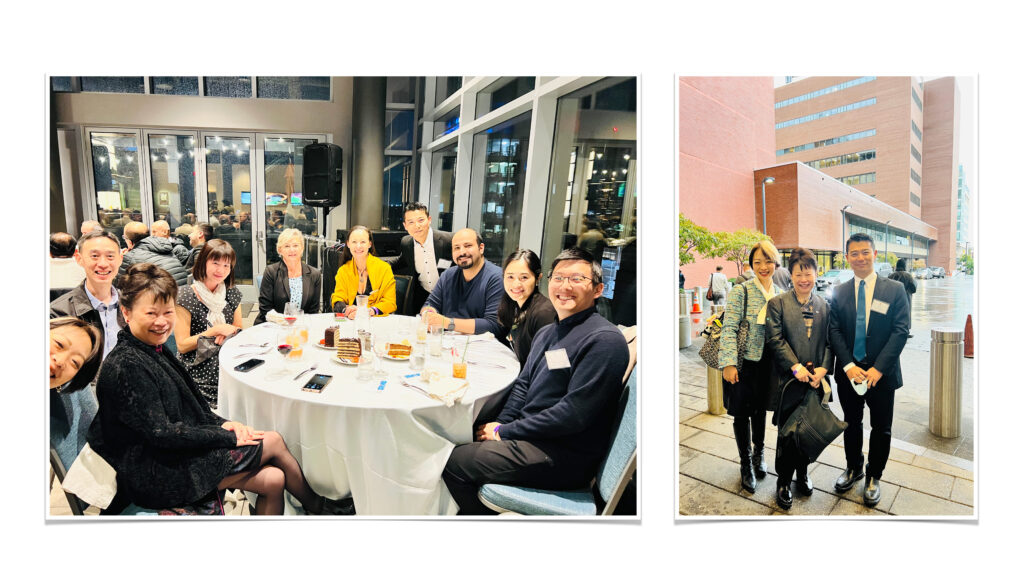 It has always been my dream to pursue a career in ophthalmology, with a particular interest in performing academic services, publishing scientific papers, participating in clinical trials and be part of WAEH's "centres of excellence" in ophthalmology. I believe that the WAEH will be an important step for the future of eye care providers in Latin America, since I believe it will allow for the free and unhindered exchange of ideas, promote research, sponsor and advise societies.
I promise my active participation and that I will promptly notify my need for the WAEH mission.

Takashi Hida MD PhD
Co-founder and Chairman Medical Affairs OPTY Eye Hospital Chain
Former President of Brazilian Cataract Refractive Society meeting.
Head of cataract Division of Brasilia Ophthalmology Hospital HOB
PhD Sao Paulo University USP
Post-Doctoral Sao Paulo Federal University UNIFESP
Post-Graduation Harvard Medical School
Want to know more about this eyehospital? Go to: https://www.opty.com.br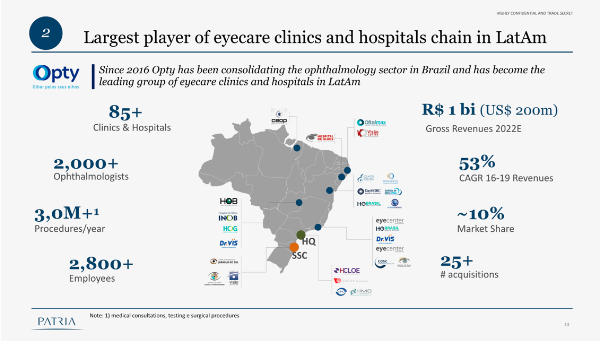 ---
Dhahran Eye Specialist Hospital
New full member of the WAEH!

Dhahran Eye Specialist Hospital is one of the leading ophthalmology specialized hospitals in the Kingdom. The hospital provides diagnostic and treatment services in the following sub-specilaities by experienced and leading consultants in (medical retina, vitreoretinal surgery, cornea and anterior segment, glaucoma , pediatric ophthalmology and strabismus, oculoplastics, neuro-ophthalmology, uveitis, anaplastology, optometry, orthoptics, contact lens, low vision, diagnostics and supportive medical services).
Dhahran Eye Specialist Hospital is considered center of excellence in corneal transplant and the only hospital in the region providing anaplastology services.
Want to know more about this eyehospital? Go to: https://www.ehc.med.sa
---
South Tyneside Sunderland NHS Foundation Trust
New full member of the WAEH!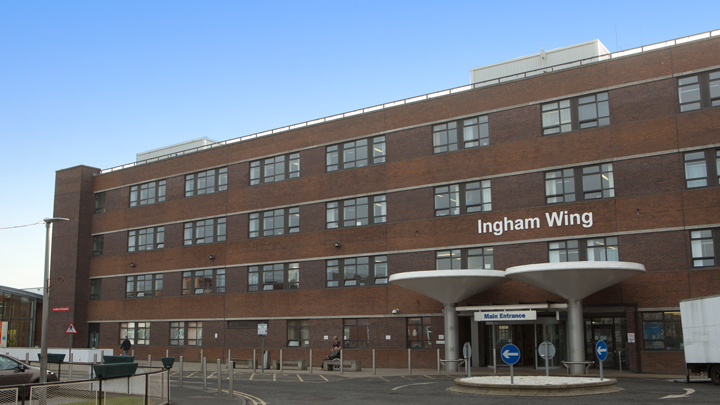 Sunderland Eye Infirmary provides a whole range of ophthalmic services for the population of Sunderland and the immediate surrounding area and is also a sub-regional centre, servicing the population of the North East of England seeing in the region of 100,000 attendances every year.
Nationally renowned for its innovation and high quality services, Sunderland Eye Infirmary is the home of the only 24/7 dedicated Ophthalmic Accident and Emergency Unit servicing the North East. The centre treats approximately 32,000 patients per year, with conditions ranging from minor irritations to major ocular trauma.
Their services include:
Cataract Treatment Centre
Glaucoma Unit and Mayling Diagnostic Unit
Macular Unit
Medical Photography Department
Optometry Department
Orthoptic Department
Sunderland Eye Infirmary Emergency Department
Their main theatres/day case unit is a very busy dual theatre suite which carries out all inpatient surgery and non-cataract day case surgery such as lid surgery. There are elective lists every day and emergency lists held at weekends and bank holidays. The consultant team have an on call rota for general ophthalmology and for retinal surgery as part of the regional services. Nurse led minor operations and injections also take place within the theatre area as part of the macular activity. If you're attending for a day case, feel free to bring a relative with you who can stay in the waiting area until you're finished.
Want to know more about this eyehospital? Go to: https://www.stsft.nhs.uk
---
He Eye Specialist Hospital (HESH): new full WAEH member
Shenyang, China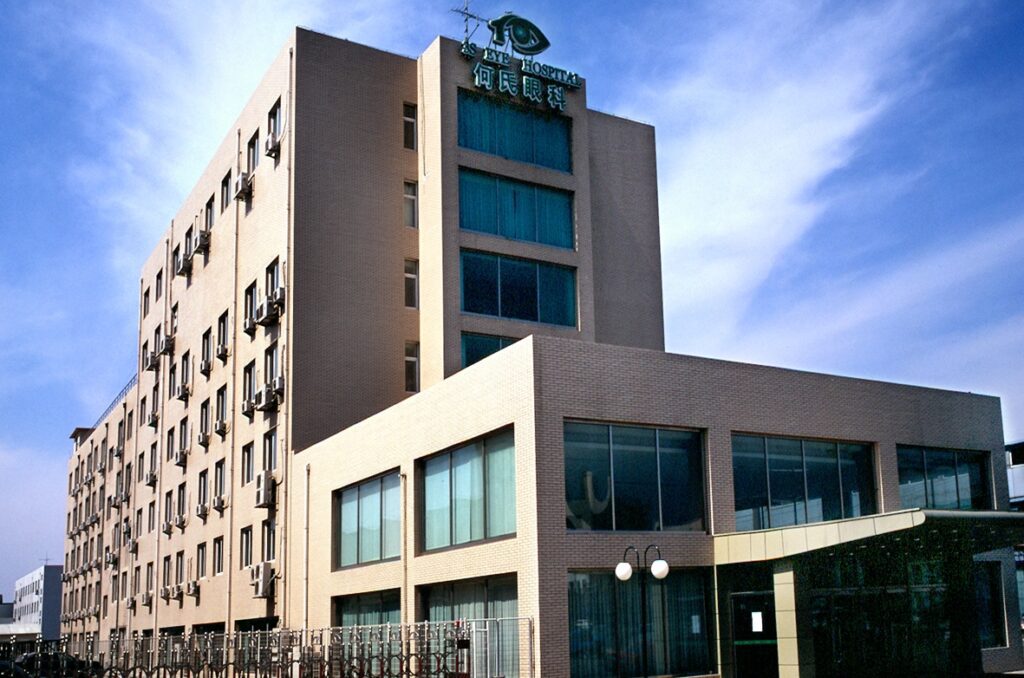 He Eye Specialist Hospital Group was founded by Dr He Wei, a professor, chief physician, doctor of medicine, and doctoral supervisor, who returned to his home country after finishing his overseas study. Vice President of the National Prevention of Blindness Technical Guidance Committee, Board member of the Ophthalmology Foundation. His team is a group chain medical institution that integrates medical teaching and research, adopts a tertiary eye care service model, and is committed to eye health management through the whole life cycle.
On March 22, 2022, He Eye Specialist Hospital Group made its initial public offering on the Shenzhen Stock Exchange and was listed on the GEM (301103. SZ).
With the mission of "He Eye care services to everyone", He's Eye Care adheres to the development concept of "Technology & Compassion", insists on prevention-oriented and combined prevention and treatment, and provides ophthalmology and optometry services for eye disease patients. We have rich clinical experience and outstanding technical advantages in cataract, glaucoma, vitreoretinopathy, dry eye, Chinese medicine, refractive error and other treatment services.
Want to know more about this eyehospital? Go to: https://www.waeh.org/news/he-vision-group-new-full-waeh-member/
---
Merry Christmas
And a Happy New Year!
A virtual hug and warm wishes are coming to you! We wish you all a Happy New Year and watch out for the fireworks! Take good care of your eyes! Happy New Year: 2023! – The WAEH team 🌍 ❤️
---

---
Questions? Share news?
Do you have a special request? Would you like to organize a webinar or share news? Would you like to be (digitally) connected to a certain person in one of our member eye hospitals? Please feel very welcome to contact Maaike van Zuilen: Maaike.vanzuilen@waeh.org