WEBINAR 30 APRIL 2020 Clinic and Surgery Rescaling Strategies and Best Practices
Thursday April 30 2020 – Covid-19 WAEH WEBINAR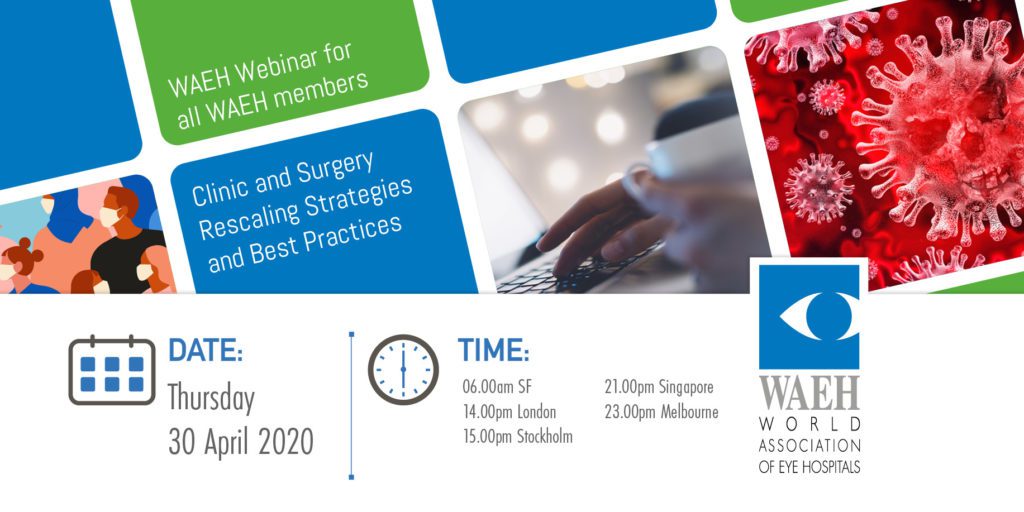 Open: to all WAEH members
Topic: "Clinic and Surgery Rescaling Strategies and Best Practices"
Most of our members are currently only providing emergency care. In some countries members are now working on policies for reopening, but what does it mean for the waiting area(s), check in counters, examination rooms, operating rooms, etc.
With a Keynote by Chloe Chen – Aier Eye Hospital Group
Global BD manager of Aier Eye Hospital Group
Chief Operating Officer of Aier Global Vision Care Management Co
Time: Apr 30, 2020 06:00 AM Pacific Time (US and Canada)San Francisco morning time!
The WAEH Webinars are exclusive to WAEH members. If you would like to participate, please send an email to: Maaike.vanzuilen@waeh.org. After registration you will receive a link. If you already have questions? Please feel free to already share them! During the webinar you can ask questions via the chat.
We hope to see and talk to you soon!