WAEH Newsletter 2020 – May 2020 – 2
WEBINAR 28 May 2020
PPE & Surgical Throughput – How to Balance Both?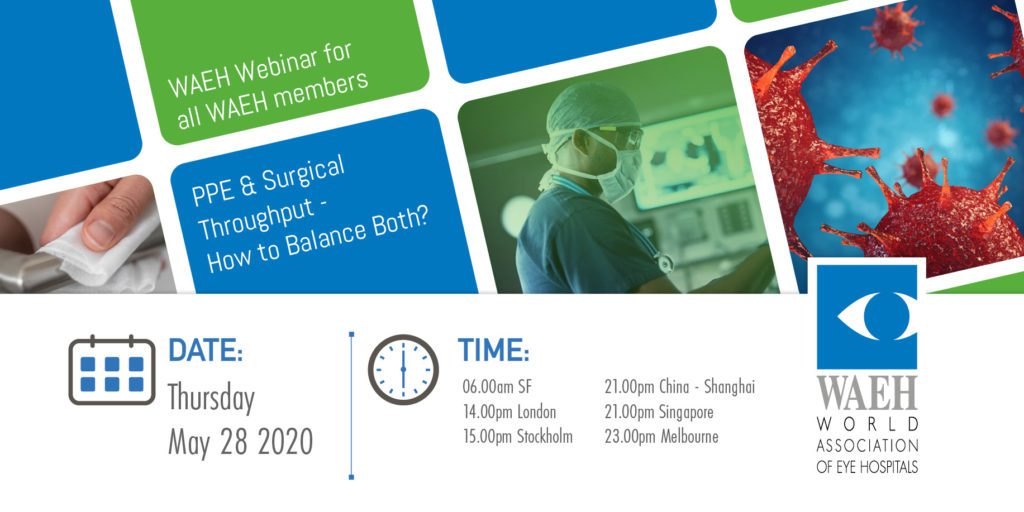 Open: to all WAEH members
Topic: COVID-19 – PPE & Surgical Throughput – How to Balance Both?

Keynotes by: Kellog Eye Center – USA
Professor Christine C. Nelson, MD, FACS
Bartley R Frueh, MD and Frueh Family Professorship in Eye Plastics and Orbital Surgery
Professor of Ophthalmology and Visual Sciences
Professor of Surgery, Eye Plastic and Reconstructive Surgery
Section Chief, Eye Plastic, Orbital and Reconstructive Surgery
University of Michigan Hospital and Health Systems
Beth K. Hansemann BS, COT
Clinical Operations: Patient Safety and Continuous Improvement
Dr Roni Shtein MD
Associate Professor, Ophthalmology and Visual Sciences Medical ACU Director
Cathy Huebner
Surgical Services Clinical Administrator
Time: May 28, 2020 06:00 AM Pacific Time (US and Canada)San Francisco morning time!
The WAEH Webinars are exclusive to WAEH members. If you would like to participate, please send an email to: Maaike.vanzuilen@waeh.org. After registration you will receive a link. If you already have questions? Please feel free to already share them! During the webinar you can ask questions via the chat.
We hope to see and talk to you soon!
---
Please join – WAEH project
Clinician Burn Out
Please join Project Clinician Burn Out!
Clinicians, ophthalmologists (In training) and all other employees working in eyehospitals worldwide increasingly experience work pressure and an imbalance between work and private life. This leads to an increase in sick leave. More specifically, this leads to an increase in psychological work-related absenteeism.
The absence manifests itself in burnout complaints and sometimes even depression. At a time when it is difficult to find enough qualified employees, it does not help if the work environment is more sick than contributing to job satisfaction and happiness.
All the more reason to investigate the factors that influence this and then discuss the factors that can turn the tide. The subject is high on the agenda in the Netherlands and a lot of research is being done in the Netherlands. The Rotterdam Eye Hospital has the ambition to actively participate in research and, more specifically, in interventions that reduce psychological absenteeism.
Especially during these challenging times it's important to watch our mental health. We certainly want to avoid mental post corona issues! From The Rotterdam Eye Hospital to all the eyehospitals and WAEH members: Would you like to participate to the Project Clinician Burn Out? For everyone who's interested, please request your HR-department to connect with: maaike.vanzuilen@waeh.org.
Next step? Let's plan a meeting via Zoom to discuss the first ideas!
---
COVID-19 implicated in conjunctivitis
The COVID-19 virus can cause ocular complications such as conjunctivitis, though not necessarily in the early stages of the disease, according to researchers.
Samples taken from the eyes of a patient suffering from conjunctivitis 13 days into his illness tested positive for SARS-CoV-2, the coronavirus that causes COVID-19, wrote Lu Chen of the Shenzhen Eye Hospital in Shenzhen, China. Dr Chen and colleagues published their findings in the British Journal of Ophthalmology.
The observation suggests that the virus could spread from the conjunctiva, the researchers said, adding that on the other hand, the conjunctiva may not be the ideal site for sampling for early diagnostic tests for the virus.
---
May 12, 2020
Using cybersight to help diagnose and treat urgent cases during lockdown
Orbis partner Dr. Khauv is a Cambodian ophthalmologist who has been using Cybersight for more than a decade, seeking consultations on nearly 200 patients. Thanks to the support of Orbis Volunteer Dr. Shaikh, he was able to diagnose and treat an urgent case, even in the midst of a pandemic.

Orbis's telemedicine platform, Cybersight. The platform's teleconsulting feature allows ophthalmologists like Dr. Khauv to upload patient cases and receive advice from expert mentor doctors around the world.
"Since I work alone, Cybersight is my learning tool and my teacher as well," says Dr. Khauv. "I grow a lot from it."
Click here to read the full article.
---
May 11, 2020
Moorfields pioneers new way to protect surgeons during eye surgery
Moorfields Eye Hospital has implemented a microscope drape, which can help protect surgeons from viruses such as covid-19 when delivering eye surgery.
The microscope drape consists of a sterile sheet that is fitted around the patient and microscope to prevent the spread of aerosol particles in the operating theatre.
Louisa Wickham, consultant ophthalmologist and chief surgeon at Moorfields Eye Hospital and clinical director for Moorfields Private, said: "In these challenging times we want to continue to provide sight saving treatment, in the safest way possible. We are delighted to have found an innovative solution that we hope can create a safer surgical environment to help protect both patients and staff."
It is important to highlight that this drape should not replace the use of recommended PPE. However the drape aims to reduce the risk of aerosol particles produced during the procedure spreading across the theatre where they may contaminate theatre staff and surfaces.
The microscope drape can be seen in action in the following video:
---
---
---
What's on the agenda
May WAEH Webinar – 28 May – 06.00 US time
June board meeting – 4 June – 13.00 UK time
June WAEH Webinar – 25 June – 06.00 US time
July WAEH Webinar – 30 July – 06.00 US time
August WAEH Webinar – 27 August – 06.00 US time
September WAEH Webinar – 24 September – 06.00 US time
September board meeting 25 September – 13.00 UK time
December board meeting 7 December – 12.00 UK time
---
Questions?
Do you have a special request? Would you like to be connected to a certain person in one of our member eye hospitals?
Please do not hesitate to contact Maaike van Zuilen: Maaike.vanzuilen@waeh.org